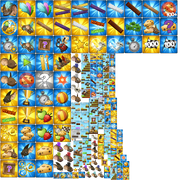 As of version 1.1.0 there are a total of 115 achievements. All achievements are awarded after the game. All game modes must first be unlocked using achievements except "Regular".
If you unlock a title / background, you can change to it by managing your profile (front screen "Profiles" or the "Manage" button after you hit play), and then on the right side hit "Select title" or "Select background".
All achievements before achievement #79 ("Total score: 10000") must be complete in one game. All those after and including #79 are cumulative (except the hidden ones).
List of Achievements
Edit
General 1/4
Edit
General 2/4
Edit
General 3/4
Edit
General 4/4
Edit
Lots of enemies
Edit
Giant enemies
Edit
Nightmare
Edit
All in the box
Edit
Long jump
Edit
Turquoise shaman
Edit
Green shaman
Edit
Blue shaman
Edit
Red shaman
Edit
Violet shaman
Edit
Black shaman
Edit
Silver shaman
Edit
Gold shaman
Edit
Simple mouse
Edit